OK, kind of a misleading headline but I am training for the Colfax Marathon without running right now.  My hope is to get my miles going in late February.  The reason I'm not able to run? Stupidity.
I was so proud of myself in 2012:  I trained and ran the Boston Marathon injury free.  I trained and completed an Olympic and half-Ironman distance triathlon without issues.  Then I got greedy.   While training for a December marathon, I allowed a slight annoyance in my shin to become the most excruciating pain I've experienced.  I'd never had a shin splint in my life.  I ignored the warning signs and I'm pretty sure it became a stress fracture during an 8 mile run in early November.    The pain literally stopped me in my tracks during the run.  Here I am 3 months later and can barely string together a full mile of easy jogging.  Thankfully I've been able to walk, snowshoe and use the elliptical the last 6 weeks.
So, how does one train for 26.2 miles without running?  I have a plan from Runner's Edge of the Rockies and have been substituting other modes of aerobic training for my running days, I've also been working on strength and flexibility as well as taking days off (VERY difficult for me).   Hopefully all this equates to an overall stronger well being.
As a Colfax Marathon Ambassador, I'm going to share my workouts.  Maybe you're in the same boat and need some other ideas or encouragement.  It's frustrating to be injured.  Maybe you want to run but haven't started training.  Take baby steps, you can get there just like I will.
Here's what my January looked like:
 

 
1

Eliptical 4 miles

2

Off

3

Off

4

Bike 20 miles

5

Eliptical4 miles

6

Bike 22 miles

7

Off

8

Walk 3 miles

9

Bike 22 miles

10

Walk 5 miles

11

Yoga

12

Off

13

Eliptical 4 miles

14

Off

15

Walk 3 miles

16

Spin class

17

Off

18

Downhill ski

19

Hike 5 miles

20

Hike 6 miles

21

Bike 22 miles

22

Walk/Run2 miles

23

Bike 24 miles

24

Off

25

Walk 6 miles

26

Walk/Run2.5 miles

27

Bike 35 miles

28
29

Eliptical5 miles

30

Yoga

31

Off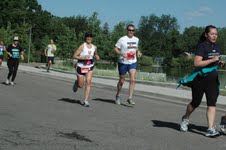 I also did a lot of icing, some ART, acupuncture and massage for my shin.  Its light years ahead of where I was on November 4th, but still not 100%.
I'll keep you posted each week from here to the marathon (or maybe ½ marathon at this point).  Good luck with your goals and hope you will join me at the Colfax Marathon in May!